Our Commitment to Sustainability
Here at Helicopters Nelson we are fortunate to be based in one of New Zealand's most stunning natural environments. In the Tasman Region we have three amazingly rich and diverse National Parks – Abel Tasman National Park, Nelson Lakes National Park and Kahurangi National Park. In neighbouring Marlborough we regularly fly to the beautiful Marlborough Sounds, and on the West Coast we have the wild majesty of Wharariki and Farewell Spit. Every day we are thankful for this natural environment, and we are committed to playing our part in its protection and conservation for future generations.
We will meet the needs of the present without compromising the ability of future generations to meet their own needs.
We see sustainability not as a stand-alone activity, but as an integral element of everything we do here at Helicopters Nelson. We know that working in a sustainable manner is an ongoing journey that will improve with time, experience and working with others. By striving to protect and enhance the natural environment we work in, our aim is to continue to reduce our environmental footprint to ensure that our beautiful region is protected for future generations.
Our Values
We have two core values which underpin all our business activities:
Meaning guardianship, care and protection. It provides a basis for our approach to sustainably managing our natural, cultural and built environment for current and future generations.
Which implies a reciprocal responsibility upon a host, and an invitation to a client or visitor to experience the very best we have to offer.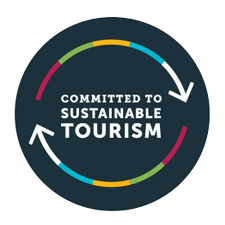 Sustainable Tourism
Tiaki Promise
We also adhere to the Tiaki Promise, which is a commitment to care for New Zealand for now and for future generations. You can also play your part in protecting our beautiful environment by pledging your support at Tiaki Promise.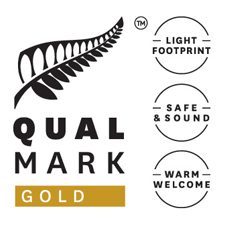 Qualmark Gold
We are proud to be the recipients of a Qualmark Gold Award, which recognises the best sustainable tourism businesses in New Zealand, with the delivery of exceptional customer experiences an integral part of everything they do.
Our Commitment to Conservation
As a Department of Conservation Approved Operator, we actively support conservation efforts throughout our region in many ways. The DOC Approved label symbolises the significant contribution that tourism and recreation businesses like ours make to conservation in New Zealand. It shows the value of our business to DOC and illustrates to visitors that our business pays fees to DOC to support conservation. The label also shows that we have passed the environmental standards set by DOC, as well as safety standards set by an independent auditor, and been approved to operate in public conservation areas.
Our Conservation Projects
Check out some of the conservation projects we're proud to be involved with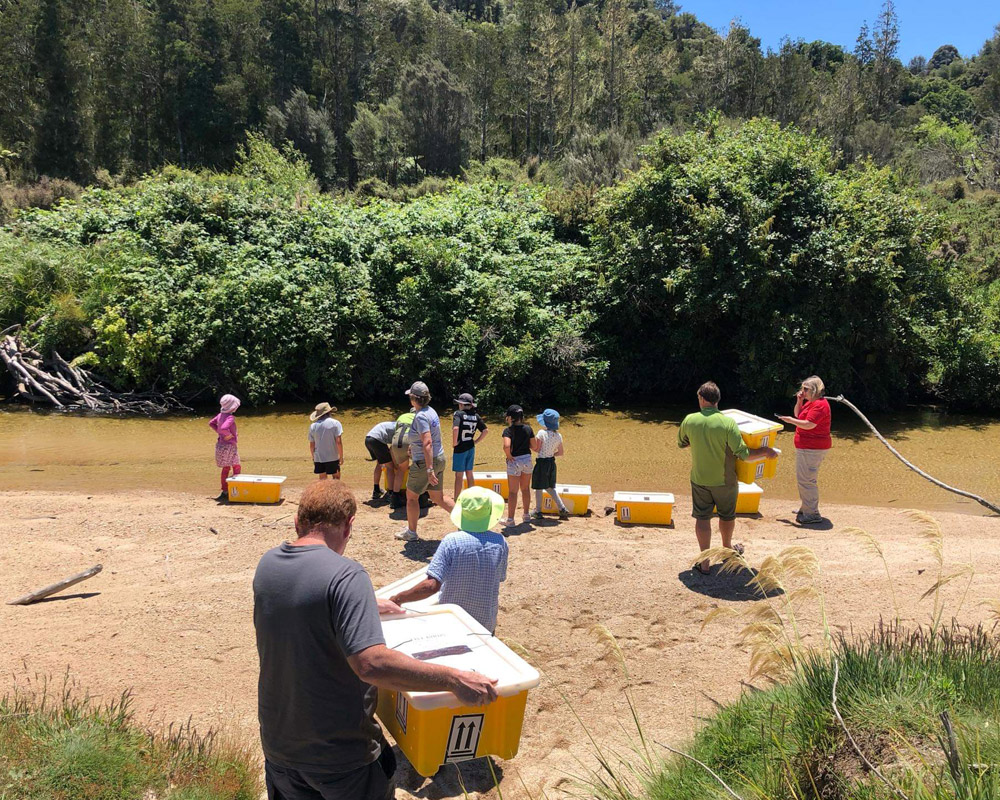 Project Janzsoon
Helicopters Nelson often work with Project Janszoon and DOC to fly rare native species including pāteke, kākā and kākāriki to release sites in the Abel Tasman.
Project Janszoon (named after explorer Abel "Janszoon" Tasman) was launched in 2012 with the generous support of New Zealand couple Neal and Annette Plowman, who have since established the $100 million philanthropic NEXT Foundation. Project Janszoon has committed millions over 30 years to make transformational change in the Abel Tasman National Park.
The trust is working with iwi, the Department of Conservation (DOC) and the community-led Abel Tasman Birdsong Trust to put things right. Together they're getting rid of pests and weeds, bringing back native birds and bush, and inspiring a culture of care for the Abel Tasman National Park.
Friends of Flora
Friends of Flora is a community group that believes our native fauna must be preserved for future generations. The group works in partnership with the Department of Conservation to bring about the protection and/or return of endangered and threatened flora and fauna to the Flora Stream catchment area in Kahurangi National Park.
One important part of their work was the reintroduction of Takahē to Kahurangi National Park. The birds were raised in the Takahē Recovery Programme in Te Anau, Fiordland. It was an epic adventure from Te Anau to Kahurangi National Park in DOC utes, charter flights and helicopters. Each bird had a name, a boarding pass and was buckled in its own seat on an Air New Zealand flight. They were transferred to a Helicopters Nelson helicopter on landing in Nelson and taken to their new home – Gouland Downs, near the Heaphy Track in Kahurangi National Park.
The Abel Tasman Birdsong Trust
The Abel Tasman Birdsong Trust / Te Poari Koro Tui is a charitable trust with a vision to see the forests and beaches of the Abel Tasman National Park once again filled with native birdsong. By working in partnership with tourism operators, the Department of Conservation, Project Janszoon and the community they are protecting and enhancing the biodiversity of this special place.
A major part of their work is the trapping of predators throughout the park. Helicopters Nelson transported the traps into the park, packed into a special fadge, a large sling-type bag suspended beneath the helicopter. This enables the pilot to release the load without the need to land – crucial in areas such as the Abel Tasman where the abundance of vegetation make it impossible to land. Once deposited, the volunteer trappers were able to load up and set out on foot to distribute the traps.